Steel Dog and Sarah B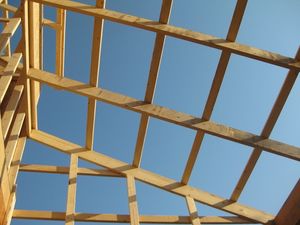 Sarah B doesn't remember not working. From household chores, dog walking, and paper routes to food and retail, switchboard operator, landscaper, secretary, pump jockey, co-op organizer, all before she was even out of school. She studied sociology and political science because they were interesting. She didn't know what she wanted to "do" except make more money and buy better stuff. She was a good student, an avid if slightly undisciplined athlete, a trophy-winning member of the debate team; she only remembers working at being cooler or at least funnier.
The first position she took after leaving school in February 1987 was a loosely-defined "quality control" position in a software development firm (Microsystems Engineering Corporation, Hoffman Estates, IL); nepotism was a factor. One of her immediate responsibilities was to inspect the boxes in the shipping area before they went out to make sure they contained all the necessary pieces. She reported to the manager of product support, who created this position in her department because customers complained of getting the wrong stuff. It soon surfaced that no one agreed on what the right stuff was. The tech support people would promise the customer something; the inside and outside salespeople made different kinds of deals. The packing slip that came out of Order Processing didn't include some things, and often called for others that didn't exist. The picker and the shipper were generally the same person, who understood packing and shipping but had no idea what any of the stuff was and thus no way of evaluating its appropriateness to an order. There was no mechanism by which any of these people regularly interacted. Sarah made it her job to make it work. The company had grown so quickly; everyone wanted to do it right and people were happy to have a plan. Within a year, orders were getting recorded, communicated, picked and packed with an 85% increase in accuracy. The system was strong enough that they were able to hire a visually-impaired man to help pick and ship orders.
She then moved on to pursue the establishment of standards for the materials that accompanied software out the door: manuals, reference materials, promotional items, marketing literature, etc. She submitted and subsequently implemented a proposal whereby printing, production and editorial could all be brought fully in-house, and language and packaging standards established and maintained. The company proceeded to produce all of its own manuals and marketing materials, using the software created by the company. Sarah managed this process and an editorial staff of 6-8 through 1992.
Sarah left at twice the salary she was hired for five years earlier, and far richer in experience. She joined Que Publishing in Indianapolis as an Acquisitions Editor, responsible for launching of new titles by prospecting for and securing authoring talent. She handled 12-20 titles per year, and within a year was managing the Acquisitions Staff, with responsibility for the imprint's whole roster of about 60 titles per year. This small group of people and its catalog was bought and sold repeatedly in the early nineties when the great media merger frenzy began, until it was at one point owned by MacMillan of Simon & Schuster of Paramount of Viacom. The division was consistently profitable throughout regular reorganizations.
After two years, Sarah moved to another area of the company, and helped usher it through the transition from struggling computer-book imprint to cutting-edge computer and video game hint book publisher; the imprint, Brady Games, was one of the first of its kind in the country, and opened new markets for its publishing parents and competitors alike. Sarah moved from negotiating with authors to negotiating with video game makers, film producers, celebrities and their agents, the NFL and NBA and others for intellectual property rights, working with a million-dollar budget and forging valuable new relationships.
She left Brady in 1995 and returned to Chicago to join her sister's entrepreneurial effort, a computer training company targeting local small and mid-sized businesses in a thriving suburban county. She secured bank financing, managed a growing payroll, developed new marketing initiatives, prospected, closed new business and was active in the community, serving for a year on the local board of Main Street, and regularly participating in the efforts and events involving the local chamber of commerce. She also added a new area of expertise to her sister's substantial offerings by mastering Quickbooks and providing training and consulting services to small businesses and their accountants.
In 1998, Sarah took her technical and business writing skills and all that experience and started working for money as little as possible, so she could try some other stuff. She produced two full-length CDs of orginal music, formed a band, toured locally and regionally for a year, produced some projects collaboratively with other artists, put on a bunch of music and cause-related events and wrote for fun, all under one umbrella known as Steel Dog Productions.
She paid the bills by developing simple web sites with great copy and taking contract work as a technical and corporate collateral developer and writer. She worked with area small businesses on various special projects. She spent most of 2004 working with the new owners of her old employer Microsystems, building a new online help system for multiple products, conducting workshops for employees in effective written communication and a workshop for the company's consulting staff to help them make the transition from service providers to solution sellers. She developed a prototype for a system that would automate the process by which specifications were defined for custom product development projects, and wrote and edited white papers, client case studies, product specifications, and end-user documentation.
Sometime in 2005, she circled back to music, performing and recording and trying to hold her own on a couple days a week of paying work, choosing a part-time bookkeeping gig for a company that hooked other local (still Chicago) businesses up with swag.
In 2008, Sarah left Chicago for the mid-Atlantic region and has since been lovingly tending an old farmhouse with a few acres of woods and horses. She is working on a writing project that might be a memoir or a novel or a treatise on animal behavior or the meaning of words, and preparing some of her musical catalog for sale. She considers a paid writing, consulting or producing project from time to time.